Process
To date only concepts for specific sectors have been drawn up for Frankfurt/Main as a whole,, for example for the development of land for housing, and with regard to the green belt, climate protection, land requirements for care and educational facilities, city-friendly mobility and the space industry and commerce require. The individual concepts run the risk of competing with one another and involve approaches that are only difficult to reconcile. An integrated urban development concept is intended to highlight these conflicting goals and come up with a solution.

The integrated urban development concept was drawn up in four stages. Stage 1 identified, form a sectoral point of view, the important developments and trends in Frankfurt, as well as the evident opportunities and risks for the future. On this basis, an analysis was conducted (stage 2) which outlined what the city depends on, and the mutual contradictions in approach, and drew initial conclusions for the future. With a view to putting the focus on development of the city's strategic thrust and spatial footprint through 2030, possible scenarios and alternative approaches to urban development were drawn up (stage 3). Ultimately the future vision of Frankfurt in 2030 emerged (stage 4). On the basis of spatial strategies, this illustrates what the city will be like in 2030, where it will change, and how this will occur.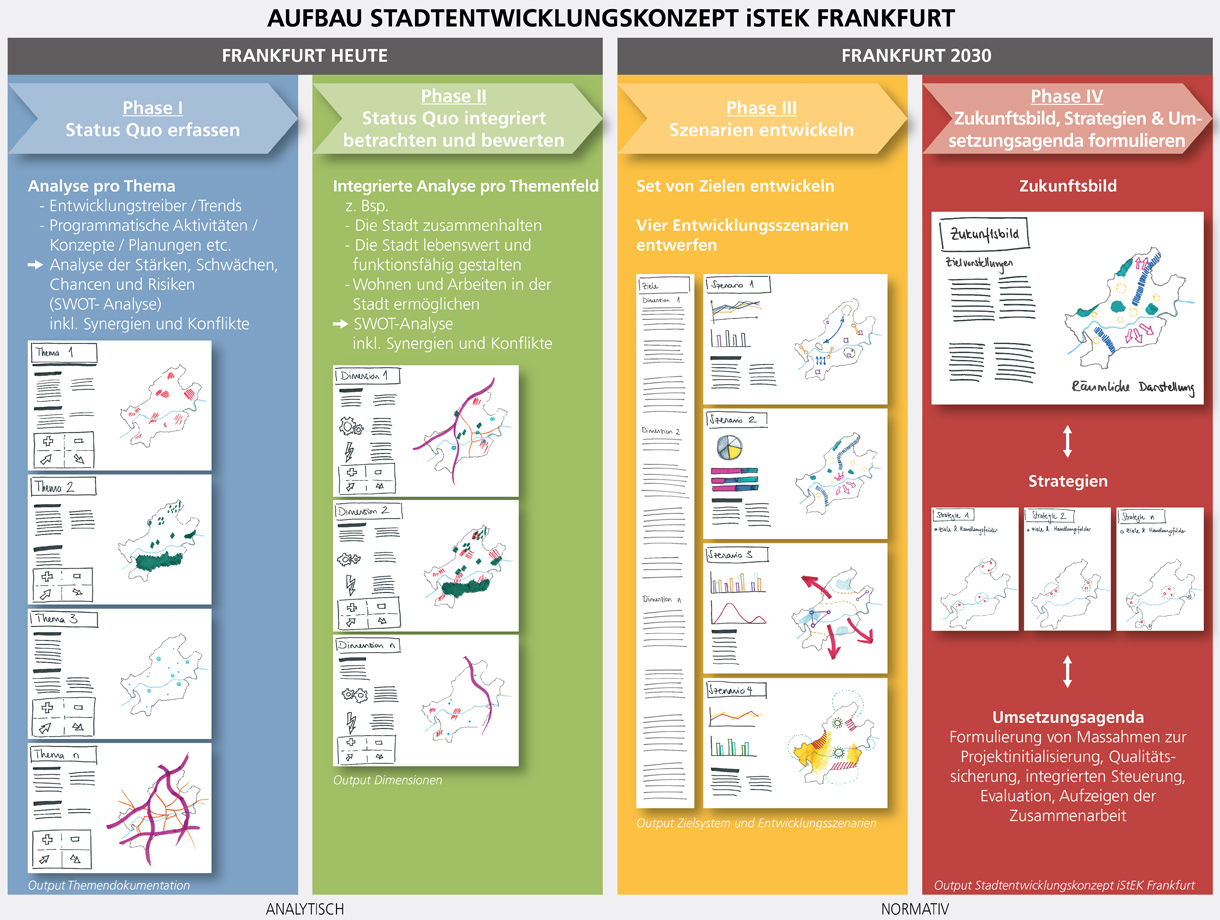 The results of stages 1 and 2 were published in the status report and the newspaper "Frankfurt Deine Stadt" (issue 1).
The scenarios (stage 3) are outlined in the newspaper "Frankfurt Deine Stadt" (issue 2).

The future vision envisaged in stage 4 was then formulated. The integrated urban development concept was published in the brochure Frankfurt 2030 + Integrated Urban Development Concept.
As the basis of the drawing up of the future vision a study of settlement patterns and the structures of open space was conducted. The study of the areas of parkland and open spaces is available as a brochure. A publication on the settlement patterns will be forthcoming.