Quäkerwiese district pavillion
Provision of a container that serves as a temporary kiosk until the construction of the meeting point in the new Quäkerwiese district pavilion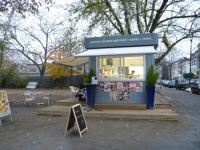 The upgrading of Quäkerplatz through the meeting point that is the "Quäkerwiese district pavilion", which includes Paul Hindemith School, children's facilities and a playground in the immediate vicinity, was one of the central projects in the "Social City Gallus" scheme. The demolition of the old kiosk building, the remodeling of the previously inaccessible plaza and the construction of the "Café Pause" kiosk in a freight container as a temporary solution were all important steps envisaged as part of the new design. Until such a time as the future district meeting point in the Quäkerwiese district pavilion was built, "Café Pause" played a decisive interim role, not only with regard to buildings but also in terms of its function – by changing its operating concept. Without alcohol and cigarettes being sold there, the new range of goods available is geared more to residents of all ages, schoolchildren and parents with children from the adjoining playground, thereby already referencing the future meeting point in the Quäkerwiese district pavilion. "Café Pause" was opened in September 2007 and its patio is a nice place to sit, especially in the warm summer months. For many residents this first interim step has considerably improved the general appeal of Quäkerwiese.
The district pavilion competition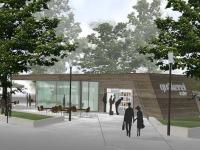 With a view to laying even stronger foundations for neighborhood life in this central spot at the heart of Gallus, as a non-profit-making district meeting point the Quäkerwiese district pavilion was earmarked to function as a drop-in and information center dealing with the issues Gallus residents have, even after the end of the "Social City" scheme. Integrating "Café Pause", which was housed in a container, was intended to support the meeting point in terms of hospitality and enrich life in the district with another attraction.
In June 2008 the City of Frankfurt Planning Department, in collaboration with the Hessen Chamber of Architects, held a competition with a view to building an edifice of the highest quality in terms of architecture and function. The jury selected the design submitted by DG/D Architekten Dahlhoff-Göth/Dorfmeister as the proposal to be realized. The winning entry envisaged a rectangular building with a modern wooden façade and spacious outside terraces facing Frankenallee in the north of the plaza. Construction of the district pavilion began in the late summer of 2010 and was commissioned in June 2011. Parallel to the building work the surrounding open spaces were also remodeled. Ever since, the welcoming look-and-feel has not only attracted local residents from Gallus and the neighboring Europaviertel district, but interested visitors and tourists to Frankfurt too.
During the annual "Gallus Summer" the district pavilion and the adjoining area of greenery serve as a stage for an attractive cultural program.
Quäkerwiese District Pavilion - Program 2012 [1869 KB]
Gallus Summer 2016 program