Regional Cooperation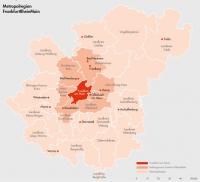 The City of Frankfurt can only find solutions to many strategic questions together with the region. Urgent issues such as compact settlement development and affordable housing can be addressed in close, binding cooperation with the region. Decisions with regard to the inevitable, and in the conurbation growing competition between residential, commercial, and agricultural land use must also frequently be made on a regional basis. Demands on viable urban and regional development in terms of sustainable mobility, climate change, energy reform, the preservation of biodiversity, and protection of open space require convincing regional strategies.
Frankfurt, a strong partner for the region
The City of Frankfurt/Main is a strong partner for the region. With regard to legal site, regional, and federal state planning, cooperation is based on an equal balance of local, regional, and transregional interests (the counter-current principle). The Frankfurt City Planning Department, working closely with the various specialist departments, represents the city's interests.
Regional Authority and Regional Assembly
The City of Frankfurt/Main is a member of the FrankfurtRhineMain Regional Authority and the South Hessen Regional Assembly, which is responsible for regional planning. Cooperation in these and other regional bodies and committees is an important prerequisite for continual regional development. The Frankfurt City Planning Department helps the representatives of the city to fulfill their duties in the chamber of the Regional Authority.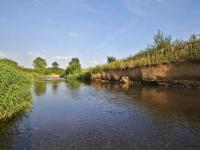 Prospects for FrankfurtRhineMain
The importance of a binding regional agreement with regard to future settlement development and housing is growing strongly in the prospering conurbation. Alongside the regulative provision of land, the active structural development of this land is an important area of activity. The development of the social infrastructure and local transport by rail must also be given consideration. In addition to the further development of open space in the region and the energy reform, these tasks are the focus of the recently begun restructuring of the South Hessen Regional Plan / Regional Preparatory Land Use Plan. The City Planning Department is playing an active specialist role in this process.