Social Cohesion Ben-Gurion-Ring
Integrated revitalization procedure in accordance with the Federal and state governments'
program "City districts with a special need for development – the Social City" (section 171e of
the German Town and Country Planning Code (BauGB))
Topic:
Urban revitalization
District:
Local district:
Size of area:
about 3.3 ha
Project management:
Ms. Juliane Liebzeit
fone: +49 (0)69 212 30128

Ms. Anna Furian
fone: +49 (0)69 212 46051

Project description
Reason for planning
In late 2015 the area around Ben Gurion Ring was included in the Federal and state governments' program entitled "City districts with a special need for development – the Social City". The large 1970s housing development, an extension of the districts, was built as subsidized housing in line with the "Urbanity through Density" strategy. The concept of a self-contained estate is obvious from the isolated location between the established district Bonames, the A 661 interstate, and the commercial zone to the north. The population in the quarter is heterogeneous in structure and furthermore includes people of around 46 different nationalities. In the past, neighborhoods were unable to cope with the various cultures and different generations, not to mention the burdens caused by unemployment, debt, and problems with violence and addiction. Following on from the "Active Neighborhood" scheme conducted until 2005, the "Social City Ben Gurion Ring" will stabilize the development, which has indeed seen better days, and create a quarter it is a pleasure for its residents to live in.
Planning area
Covering a surface area of 31 hectares, the Ben Gurion Ring housing development was built in 1977 by the Neue Heimat housing association. Today, 4,066 people live in a total of 1,604 apartments, of which 330 belong to a community of private owners, 168 to the Nassauische Heimstätte housing association, and 1,078 plus, 196 student apartments to the GWH housing association. The quarter also features a row of shops plus medical practices and two office buildings. The development of land to the northeast will result in a further 340 apartments for approximately 850 new residents. Here, the Social City also aims to promote communication processes between the previous and future resident.s
Planning objectives
On the basis of the integrated approach adopted by the Federal and state governments' Social City program, the City of Frankfurt/Main aims to preserve the Ben Gurion Ring estate and its subsidized housing. In the interest of the quarter it will upgrade the areas of greenery and open spaces, strengthen the people in the neighborhoods in social terms, promote the
local identity and intercultural integration and influence public perception of the development in a positive way.
Project progress
2015
Inclusion in the "Social City" urban construction support program – since 2020 renamed the "Social Cohesion" program
2016
Kick-off festivals and workshops
2017
Civic participation process for the ISEK "Mach Deinen Bügel"
First meeting of the quarter's advisory council
City of Frankfurt hires management team for the quarter
Inauguration of the new-look "Am Weiher" playground

since 2018
Ongoing realization of measures and projects

March 2018
Event venue at the Luminale Frankfurt (Festival of Light Culture) with the "better cities" format
January 2020
The City Council adopts the Integrated Urban Development Concept (ISEK)
Duration of the rent price cap extended for 1,100 publicly subsidized apartments

August 2020
Inauguration of the newly designed interior courtyard at Ben-Gurion-Ring 20-42
November 2020
City Council resolves that the outdoor areas at the "Am Bügel" Youth Center be given a new design

January 2021
Turnkey of the second elevator in the senior citizens home at Ben-Gurion-Ring 110

June 2021
Construction starts on the new design of the outdoor areas at the "Am Bügel" Youth Center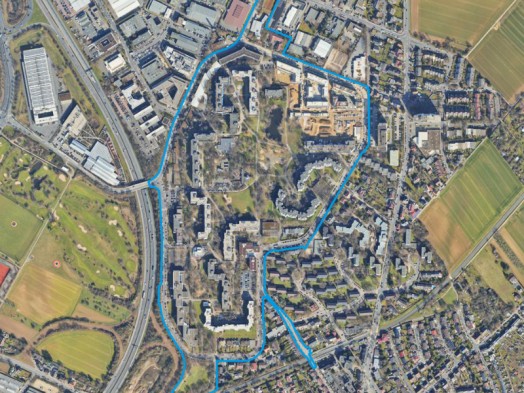 Planungsgebiet
Das Fördergebiet umfasst den Siedlungsbereich innerhalb der Ringstraße Ben-Gurion-Ring, das Jugendhaus nördlich des Rings sowie die Verbindungsstraße Homburger Hohl zur U-Bahn-Haltestelle Bonames-Mitte. Die Großwohnsiedlung wurde in den 1970er Jahren als eine Siedlungserweiterung der Stadtteile Bonames und Nieder-Eschbach im Norden Frankfurts errichtet.

Die in das Quartier integrierte Ladenzeile, ein Wohn- und Geschäftshaus mit Facharztpraxen, Einzelhandelsgeschäften, Kita und dem Quartiersbüro, hat eine über die Stadtteile Nieder-Eschbach und Bonames hinausgehende Bedeutung. Anfang der 1980er Jahre wurden im Südwesten der Siedlung zwei Bürogebäude fertig gestellt, die zurzeit für den Schulneubau und als Ausweichquartier für Schulen vorgesehen sind. In den 1990er Jahren wurden die Gebäude mit Ziegelmauerwerk am Ben-Gurion-Ring 110a errichtet. Heute befinden sich darin das Veranstaltungszentrum Saalbau Am Bügel, eine Kita und ein Flüchtlingswohnheim.
Nach Fertigstellung eines sich im Bau befindenden Neubauquartiers im Nordosten werden in der Siedlung rund 4.800 Menschen leben. Ein fast 5 ha großer öffentlicher Grünzug mit einem Weiher verläuft von Nord nach Süd durch das Gebiet. Er geht fließend in die Freiflächen der Wohngebäude über. Nördlich und westlich der Siedlung liegen die Gewerbegebiete Berner Straße und Am Martinszehnten. Im Westen grenzt das Gebiet an die Autobahn A661. Der Ortskern von Bonames im Südosten ist fußläufig erreichbar.

Planungsziele
Stadtverwaltung und Quartiersmanagement arbeiten zusammen mit den Menschen vor Ort, den sozialen Institutionen sowie den Eigentümerinnen und Eigentümern daran, die Wohn- und Lebensqualität, den Klimaschutz und das Zusammenleben in der Siedlung zu verbessern. Die konkreten Ziele wurden unter Beteiligung der Bewohnerinnen und Bewohner im Rahmen des Integrierten städtebaulichen Entwicklungskonzepts (ISEK) erarbeitet und 2020 von der Stadtverordnetenversammlung beschlossen.

Auf dieser Grundlage können unter anderem die folgenden Maßnahmen (siehe auch untenstehendes PDF Maßnahmenkarte) umgesetzt werden:
1. Neugestaltung der neun Quartierseingänge
2. Einrichtung eines Quartiersmanagements
3. Gemeinschaftsgärten
4. Arbeit am Stadtteilimage
5. Freiflächenqualifizierung
6. Aufwertung der städtischen Grünflächen
7. Innenhofneugestaltung mit Spielflächen
8. Spielplatzneugestaltung
9. Neuorganisation der Müllsammelplätze
10. Barrierefreiheit in den Seniorenwohnanlagen
11. Fassadensanierung
12. Verbesserung der Verkehrssituation & Nahmobilität
13. Quartierscafé und Nachbarschaftstreff
14. Reparatur- und Techniktreff
15. Einbindung der neuen Schule ins Quartier
16. Gestaltung der Freiflächen Jugendhaus
Projektverlauf
2015
Aufnahme in das Städtebauförderprogramm "Soziale Stadt" - seit 2020 "Sozialer Zusammenhalt"
2016
Aktivierende Feste und Workshops
2017
Bürgerbeteiligungsprozess zum ISEK "Mach Deinen Bügel"
Konstituierende Sitzung des Quartiersbeirats
Die Stadt Frankfurt am Main beauftragt das Quartiersmanagement
Einweihung neugestalteter Spielplatz "Am Weiher"

seit 2018
Laufende Umsetzung von Maßnahmen und Projekten

2018
Veranstaltungsort der Luminale Frankfurt (Festival der Lichtkultur) mit dem Format "better cities"
2019
Planung zur Neugestaltung des Innenhofs Ben-Gurion-Ring 20-42
Planung der Freiflächen am Jugendhaus "Am Bügel"
Anlegen der Insektenblühwiese auf dem Grundstück der Nassauischen Heimstätte
am Ben-Gurion-Ring 124-138
Modernisierung der Wohngebäude Ben-Gurion-Ring 102-108 durch die GWH
Verlängerung der Mietpreisbindung für 1100 öffentlich geförderte Wohnungen
2020
Beschluss des Integrierten Städtebaulichen Entwicklungskonzepts (ISEK) durch die Stadtverordnetenversammlung
Bau der Aufzugsanlage an der Seniorenwohnanlage Ben-Gurion-Ring 110
Bau und Einweihung des 1. Bauabschnitts des neugestalteten Innenhofs Ben-Gurion-Ring 20-42
Aufstellung von sieben Schaukästen für das Quartiersmanagement
Modernisierung der Wohngebäude Ben-Gurion-Ring 32-42 und 110 durch die GWH

2021
Durchführung der ersten Umweltbildungswoche
Inbetriebnahme der Aufzugsanlage an der Seniorenwohnanlage Ben-Gurion-Ring 110
Baubeginn Neugestaltung der Freiflächen am Jugendhaus "Am Bügel"
Planung und Beteiligung zum Freiraumkonzept Grünzug Ben-Gurion-Ring
Errichtung von Durchfahrtsperren im Grünzug Ben-Gurion-Ring
Modernisierung der Wohngebäude Ben-Gurion-Ring 22-30 durch die GWH
Mieterbefragung zum Mobilitätskonzept von Stete-Planung durch die GWH

2022
Einweihung der Reparatur- und Technikwerkstatt des ADFC im Ben-Gurion-Ring 118, initiiert und begleitet von der Bürgerinitiative am Bügel e.V.
Durchführung der Umweltwoche
Einweihung der neuen Sport- und Freizeitflächen am Jugendhaus "Am Bügel"
Ideenwettbewerb Quartierseingang Südost, Homburger Hohl (Parkdeck)
Modernisierung der Seniorenwohnanlage BGR 20 durch die GWH
Bau der Aufzugsanlage an der Seniorenwohnanlage Ben-Gurion-Ring 20
Baubeginn des 2. Bauabschnitts im Innenhof Ben-Gurion-Ring 20-42 mit Mietergärten und Gemeinschaftsflächen
Beschluss der Stadtverordnetenversammlung über das Rahmenkonzept für die Erneuerung des Grünzugs Ben-Gurion-Ring (Freiraumkonzept) am 17.11.2022 (§ 2543)

PDF files relating to the project
More information
Integrated Urban Development Concept and
Social City Consultative Council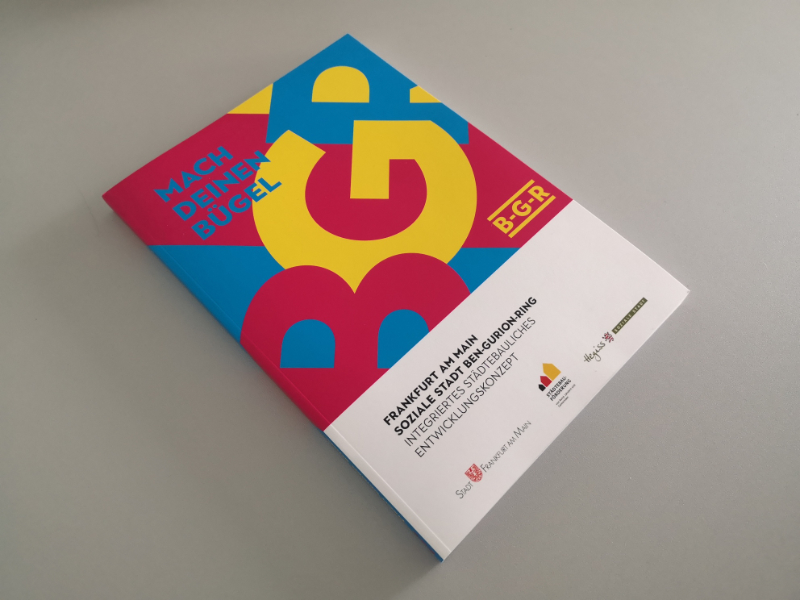 As part of preparation of the Integrated Urban Development Concept (IUDC), the basis for action for the social urban renewal in Ben Gurion Ring, between March and October 2017 an extensive public participation process took place which provided all local residents with an opportunity to help shape the development objectives for the coming years.
Associated events and workshops identified the needs as well as the potential that could be developed. As experts with regard to everyday life in the quarter, the residents contribute their knowledge to the IUDC and as such help prepare tailor-made projects for the social urban renewal. In October 2017 this participation process was displayed in the district office as part of a public exhibition of the results.
Social City Ben Gurion Ring Consultative Council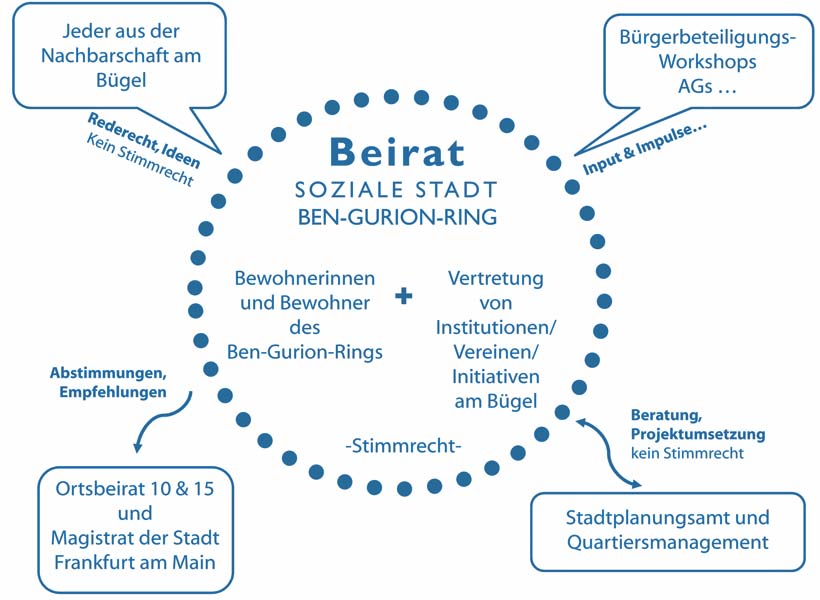 In the Consultative Council, 11 to a maximum of 15 local residents meet 10 people representing the institutions based in the "Bügel" district.

The Consultative Councils liaise between their local residents and those running the Social City program. They are contacts for local residents and represent their wishes before the municipal authorities and local politicians. The Consultative Councils are also familiar with current projects and pass on relevant information in the neighborhood.
Furthermore, the Consultative Councils act as advisors with regard to Social City projects: They recommend projects for inclusion in the annual applications for funding and play a role in their planning and implementation. The recommendations of the Consultative Council serve as the basis of discussion for the political bodies.
The Consultative Council is open to anyone living in Ben Gurion Ring. The involvement of local residents is important for the future development of the area! If you would like to become a voting member of the Consultative Council, you should introduce yourself at one of its meetings or contract the district management. Meetings of the Consultative Council are public and are held every six weeks at 6.30 p.m. on a Thursday evening.
Quartiersbüro und -management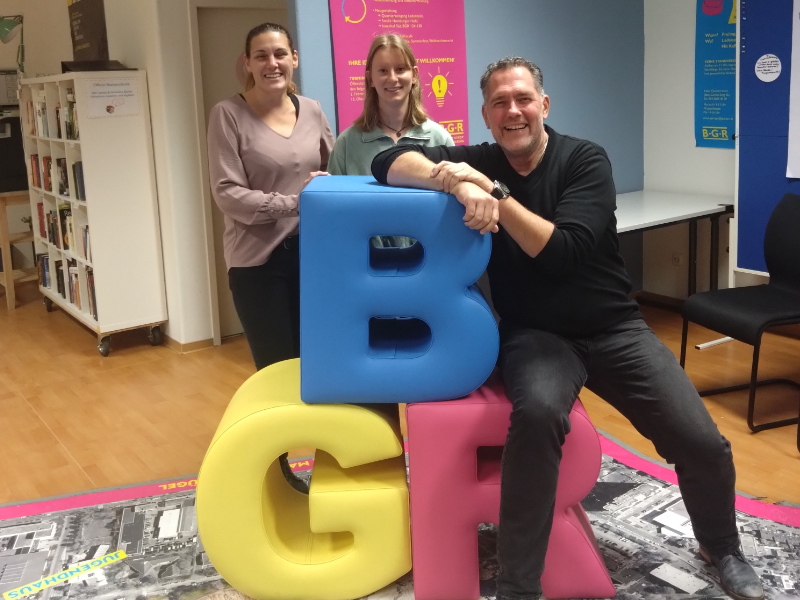 In der Ladenzeile-Ben-Gurion-Ring 56 sind Räumlichkeiten angemietet worden, um einen projektbegleitenden Treffpunkt und einen Arbeitsplatz für die Soziale Stadt Ben-Gurion-Ring einzurichten. Das Quartiersbüro ist sowohl ein Begegnungsraum als auch das Büro des Quartiersmanagements mit offenen Sprechstunden. Das Quartiersmanagement als zentraler Ansprechpartner vor Ort informiert über anstehende Entwicklungen und Angebote in der Siedlung.

Kontaktdaten und Sprechstunden des Quartiersmanagements:

Quartiersbüro Ben-Gurion-Ring
"Mach Deinen Bügel"
Ben- Gurion- Ring 56
60437 Frankfurt am Main
Tel: 069/ 500 040 60
Email: qm-bgr@qurban.de

Öffnungszeiten: Mo, Di, Do, Fr 9.00 - 13.00 Uhr, Mo 14.00 – 16.00 Uhr, Mi geschlossen
Verfügungsfonds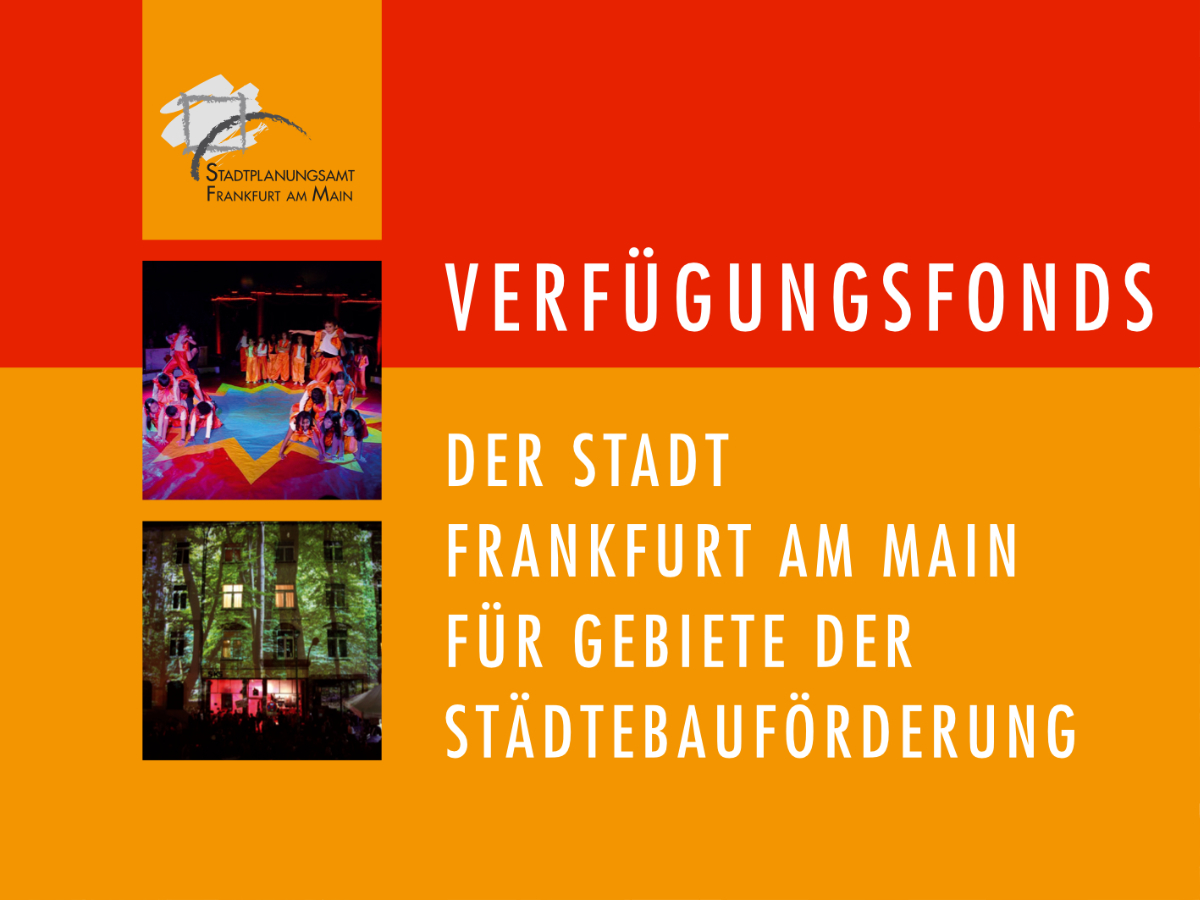 Zur Stärkung eines gemeinwohlorientierten Engagements stellt die Stadt Frankfurt am Main den Gebieten der Stadterneuerung ein Budget (Verfügungsfonds) für die Durchführung von lokalen Kleinprojekten und Maßnahmen zur Verfügung. Durch den Fonds soll bürgerschaftliches Handeln im nicht-investiven Bereich eigenverantwortlich und unbürokratisch ermöglicht werden.
Sie möchten in Ihrer Nachbarschaft aktiv werden und haben eine Idee? Die Kosten für Ihren Einsatz möchte die Stadt Frankfurt am Main Ihnen gerne erstatten.
Erste Projektideen können formlos mit dem Quartiersmanagement besprochen werden.

Zur Seite der Stadtteilberatung