Redesign of the school playground/play areas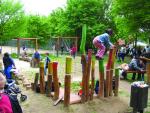 The redesign of the playground at Walter Kolb School and of other play areas in the area is an important core integrated action concept project. The redesign of the playground opens the school up, giving it a direct link into the district. By participating in all stages of the project the numerous children and youths there clearly improved their own living situation, being actively involved in the events in the district.
The redesign of the school playground had as its motto "a life before our time". From 2003 onwards it was completed in three stages in cooperation with the "Frankfurter Kinderbüro" and the associations Discorso and Impact.
In the first phase, theme-related playground equipment (a volcano slide / tree house) was built and a link created between the upper and lower areas of the school site.
In the second phase the existing play area was redesigned and a climbing dinosaur, climbing house, climbing trees and swings added. Youths were given their own area in the form of a "green class room". Lastly the covered break area was symbolically redesigned as a prehistoric cave with the murals studied in art and history classes. Covered seating was added to the existing kiosk.
In the third phase, benches and information boards were erected in the school entrance area. A stand was built for the new sports field to enable everyone to enjoy sports events together.
A big celebration in April 2005 marked the completion of the redesign of the school playground.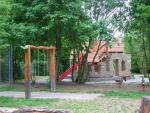 Parallel to the school playground, between 2002 and 2005 four new play areas were created on the site in an interactive planning and construction process:
Schlotterland
Schlotterland Castle with adjoining activity area with a seesaw, swings, and climbing poles is intended for 8-to-12 year olds. Integrating part of the allotments created a continuous play area at the end of Cheruskerweg.
Youth area with barbecue hut and basketball pitch
In the immediate vicinity there is a new barbecue hut, seating and a basketball pitch, which youths from the youth club helped build. The adjacent football pitch was resurfaced and given new goalposts.
Enchanted Forest
At the upper end of the expanse of greenery between Engelsruhe and Cheruskerweg and surrounded by the interplay between light and shade caused by tall trees, the existing playground for 3-to-10 year olds has been redesigned. A spiral tower complete with slide, tree house, and bird's-nest swing round out the play equipment.
No Man's Land
The small play street on the edge of Cheruskerweg has been upgraded; it now boasts a new surface and a seesaw, a climbing crocodile, springy animals, and a small children's swing. The play area is intended to be integrated in the remodeling of the road.
The entire project was financed with funds from the Social Integrative City program.