2012 Frankfurt/Main Urban Development Report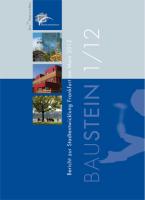 The City Planning Department has now brought out its third report on urban development. The 2012 Report offers an overall view of urban development in Frankfurt/Main in recent years and likewise highlights how this dovetails with the region. It also offers a retrospective account of the goals of urban development and the measures adopted and projects pursued to achieve them.
Starting with a description of the initial conditions in the City of Frankfurt/Main it documents the advances it has made as a residential, economic and retailing center; likewise it outlines the delivery of additional quality in the fields of unbuilt areas, mobility and urban design.
Alongside the retrospective, the Report also addresses the future challenges and possible courses of action. Among others, it presents the key fields of action covered by the City Planning Department's Mission Statement and contains the findings of an expert hearing on integrated urban development.
The Frankfurt/Main 2012 Urban Development Report has come out in the BAUSTEIN series, no. 1/12. The brochure can be obtained for 5 euros from the City Planning Department or can be ordered online by clicking Publications. There are abbreviated versions of this report in German and English. These and the full report are available for download.
Opening times
Sales of publications:
| | |
| --- | --- |
| Monday - Friday | 8.30 a.m. - 12.30 noon |
| Wednesday | 1.30 a.m. - 3.30 p.m. |
City Planning Department, Atrium