Urban redevelopment of Central Griesheim
Project management:
Ms. Isabell Richter
Telefon: +49 (0)69 212 44300
Telefax: +49 (0)69 212 30731
Ms. Stefanie Dichtl
Telefon: +49 (0)69 212 33751
Telefax: +49 (0)69 212 30731
Project description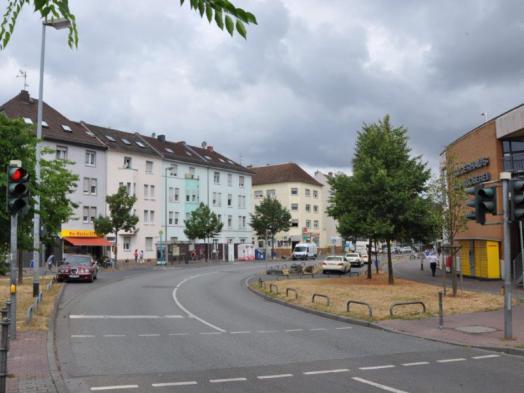 Reason for planning
In November 2019, the area of "Central Griesheim" was included in the Urban Redevelopment in Hessen scheme run by the Federal and Hessen State governments. The urban development scheme follows on directly from implementation of the "Griesheim - north of the Railroad" urban development concept adopted in 2014. Central Griesheim is a district that has grown over time, in which different epochs and the development they experienced have all left traces. In Central Griesheim there is a particularly urgent need for action as far as improvement of its residential function is concerned. Given both the quarter's location in Frankfurt and its mixed usage, the available housing is subject to numerous interferences. At the same time, because the city of Frankfurt is growing, the number of inhabitants in the district is increasing. On the back of the comparative analysis of social data (2013 Monitoring of Social Segregation and Disadvantage in Frankfurt/Main) it can be said that Central Griesheim is one of the sixth most socially deprived districts in the city. As this is a traditional commercial district, local business also needs to be strengthened in order to ensure the future viability of the diverse local commercial activities. Given demographic and climatic aspects, the consequences of climate change and the ensuing requisite climate adaptation measures likewise need to be taken into account. Parallel to the urban redevelopment process, Central Griesheim has, since January 2015, has been receiving funding as part of the Frankfurt "Active Neighborhoods" scheme. Management of the district is funded by the Internationaler Bund (IB, International Federation).
Planning area
Central Griesheim in the Frankfurt district of Griesheim for the moment covers an area of approx. 128 hectares, and in late 2017 had approx. 8,035 inhabitants. To the north, it is bordered by Mainzer Landstrasse and to the south by the tracks of the railroad between Frankfurt Main Station and Wiesbaden. To the west, it extends as far as the access road to the B 40 highway, and to the east as far as the A5 interstate. The Central Griesheim urban redevelopment zone is itself extremely heterogeneous and is defined by 1960s housing in the east and a mixed-use small-scale building structure, to one that is predominantly commercial in the west.
Planning objectives
The intention behind the inclusion of Central Griesheim in the Urban Redevelopment in Hessen scheme run by the Federal and Hessen state governments is to expand and advance the City of Frankfurt's objectives – as have been pursued to date as part of the "Griesheim - north of the Railroad" urban development concept. As well as defusing difficult situations with regard to promoting housing while also safeguarding real estate that can be used commercially, the focus is also on activating the potential that available spaces offer and creating new or improving existing links between open spaces. In connection with these objectives, improvements to traffic zones, for example, and the possibility of the climatic and energetic renewal of the quarter must be considered.
Project Progress
In 2014, the City of Frankfurt commissioned Konversions-Grundstücksentwicklungsgesellschaft mbH (KEG) with implementation of the projects listed in the "Griesheim – north of the Railroad" development concept.
Despite initial success stories, efforts to viably advance Central Griesheim for the future quickly reached the limits of informal processes. With a view to moving the initiated development process forward in a constructive way and exploiting the potential that had already been identified, an application was made for Central Griesheim to be included in the Urban Development in Hessen scheme run by the Federal and Hessen state governments. The application was successful and therefore funds are now available with which to realize identified projects as well as new ones. Furthermore, the enlargement of the planning area in comparison with the existing development concept "Griesheim-north of the Railroad" means that land in Central Griesheim not previously investigated can be considered for development.
The urban development support scheme and the use of the funds granted will derive from an Integrated District Development Concept, IDDC for short, which first had to be prepared. In the summer of 2018, the company Freischlad+Holz was tasked with drawing up the IDDC. Working closely with local citizens, local businesses, and various representatives of educational and leisure time facilities, by the summer of 2019 the IDDC had been compiled and specific projects for Central Griesheim defined. Following approval of the prepared IDCC by the relevant State of Hessen ministry in fall 2019, in late February 2020 it was adopted by the City Council of the City of Frankfurt. The IDDC and the projects embodied in the concept will be implemented during the course of the 14-year scheme – together with citizens, property owners, business people and public competence centers. The entire IDDC, its annex, and the resolution pertaining to the IDDC passed by the City Council can be viewed and downloaded – they are included in the PDF files relating to the project.
The individual projects outlined in the extensive list of IDDC measures will be implemented one after the other. There are already initial successes to report: In Ahornstrasse playground and leisure-time areas are being created in line with the construction phases. Moreover, in this segment the range of housing on offer has been increased. An extensive competition is being held in order to create a new center for Griesheim in the area of the railway station. Subsequently, planning will be taken further with the inclusion of the citizens. Additional projects are already being prepared for launch.
PDF files relating to the project
More information
Local Partnership
What is the Local Partnership?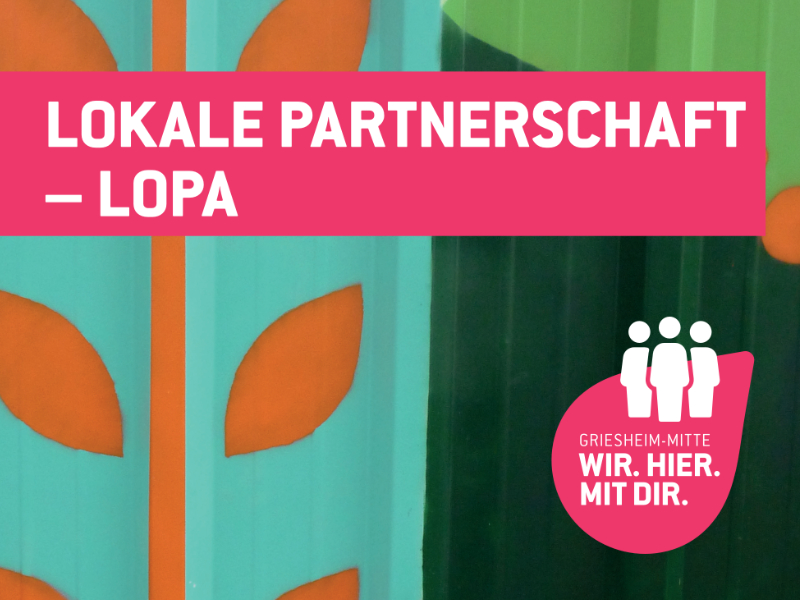 The Local Partnership is a voluntary committee comprising 15 active citizens and 14 representatives of institutions at work in downtown Griesheim. The members of the Local Partnership represent the needs and wishes of their neighbors and discuss the desired projects and necessary changes in downtown Griesheim. They are in close contact with local authorities and the Municipal Council, as they will be in future with the city renewal management team, and make recommendations to Local Consultative Council 6. The committee is a participation and information multiplier for all citizens, as well as institutions operating in downtown Griesheim.
The Local Partnership: Where and when?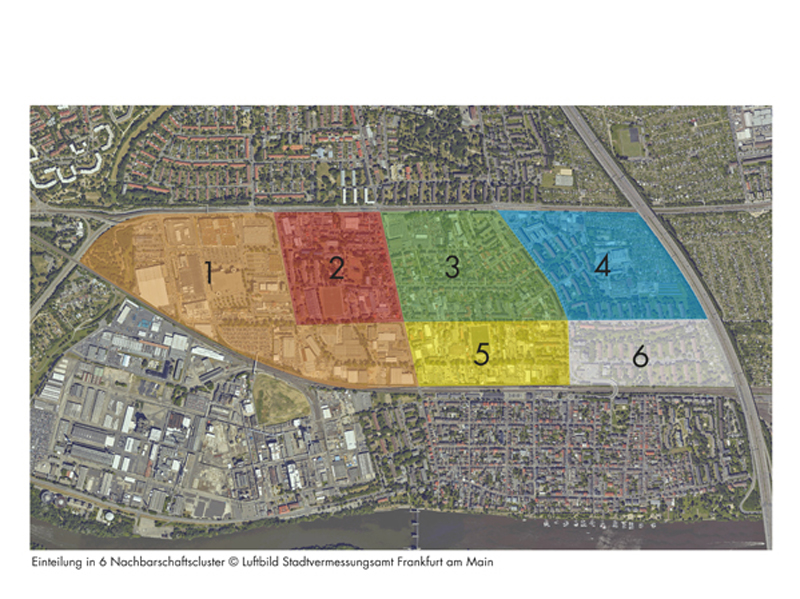 The first meeting of the Local Partnership is expected to be on October 11, 2018 in Central Griesheim. At the first meeting the committee will, under its own authority, adopt rules of procedure, elect a chairperson, and set the dates of the next meetings.
Next meetings of the Local Partnership (LoPa):
March 7, 2019: 6.30 p.m. - 8.30 p.m. Venue to be announced with the invitation
April 11, 2019: 6.30 p.m. - 8.30 p.m. Venue to be announced with the invitation
May 23, 2019: 6.30 p.m. - 8.30 p.m. Venue to be announced with the invitation
July 4, 2019: 6.30 p.m. - 8.30 p.m. Venue to be announced with the invitation
Contingent fund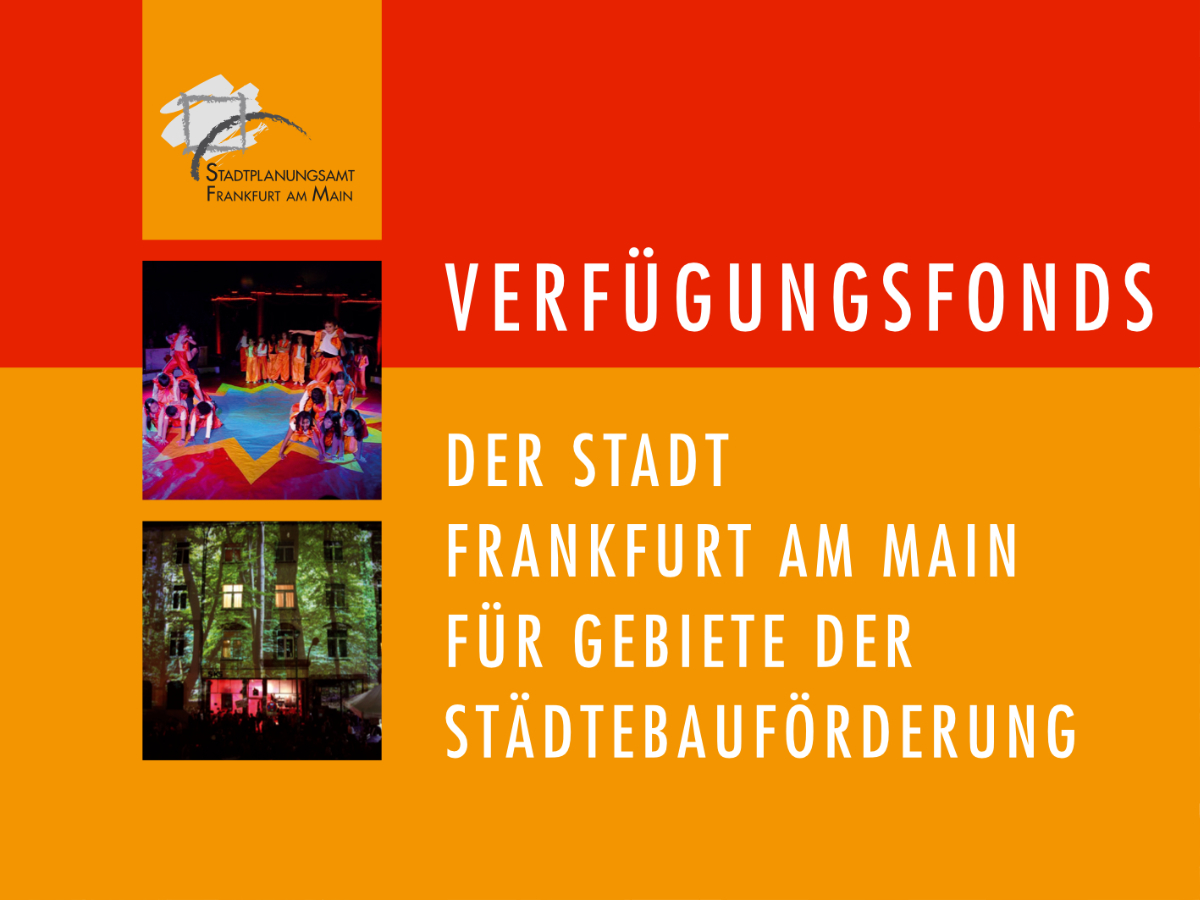 City of Frankfurt Contingent Fund for Areas that come under Urban Development Promotion, © City of Frankfurt Planning Department

Contingent fund of the City of Frankfurt/Main
With a view to strengthening its commitment to the common good, the City of Frankfurt is making available to those districts undergoing urban renewal a budget (contingent fund) for the execution of minor local projects and measures. In an unbureaucratic way the fund will enable independent civic activity in the non-investment field.

Do you have an idea that could be used to play an active role in your neighborhood? The City of Frankfurt will be pleased to reimburse you for your efforts.

Initial ideas for projects can be discussed informally with the neighborhood management team. The district manager Marja Glage also offers assistance with submitting an application and the implementation process.
Project management and management of the restructuring of the urban district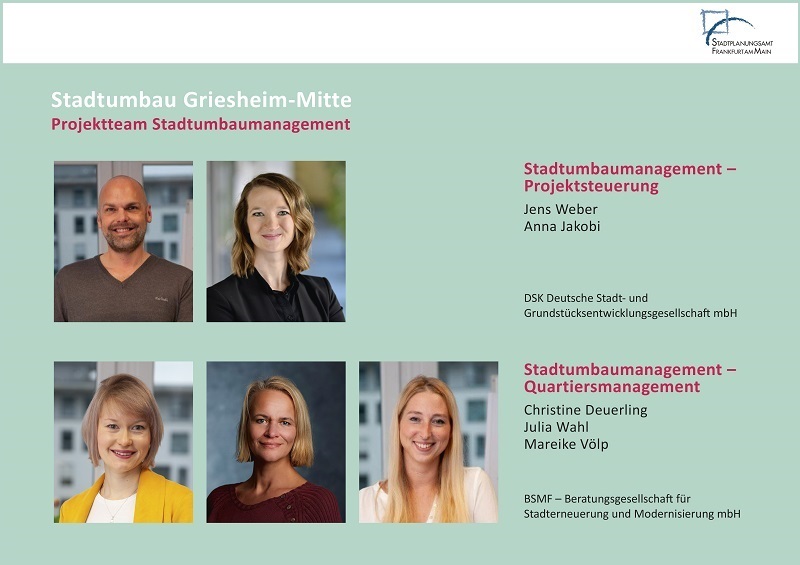 At the end of 2016, Griesheim Mitte was included in the federal and state funding program "Urban Restructuring in Hessen". Since April of this year, the resultant urban development process has been jointly supervised by the two offices Beratungsgesellschaft für Stadterneuerung und Modernisierung mbH (BSMF), a consultancy specializing in urban regeneration and modernization, and urban and real-estate development company Deutsche Stadt- und Grundstücksentwicklungsgesellschaft mbH & Co. KG (DSK). These two companies are supervising the urban restructuring process and have been tasked with managing the project and the urban district restructuring scheme. In the area of project management, the urban restructuring management team is preparing the implementation and wrap up of the investment projects and urban development measures. The district urban restructuring management team holds an important interface function between the administration, the protagonists in the district and the residents. Furthermore, the district urban restructuring management team will guarantee the uninterrupted flow of information between all those involved in the process. The project management / district urban restructuring management team can be contacted in the district office on Waldschulstrasse 17A. Their regular office hours are Mondays between 1 p.m. and 4 p.m. and Wednesdays between 9 a.m. and 12 noon.

Furthermore, the district office at Waldschulstrasse 17A is open all day and is manned by the Griesheim district management team, which is responsible for community development throughout Griesheim as part of Frankfurt's "Active Neighborhood" program. The district management team's objectives are to provide meeting points, to promote a sense of community, to improve the living environment and to make it more attractive, to foster a common identity in the district, to enhance the local infrastructure and to boost the local economy. A particular focus in this respect is on the inclusion and participation of residents, thus developing their potential and creating opportunities for them to help themselves.

Owing to the happy circumstance of the close collaboration in the joint office and the interlinking of the two district management teams, residents have been offered a central, low-threshold contact center. This forms the basis of a successful period in Griesheim Mitte and the implementation of the planned projects.
Single projects and measures
Development of the Fiat grounds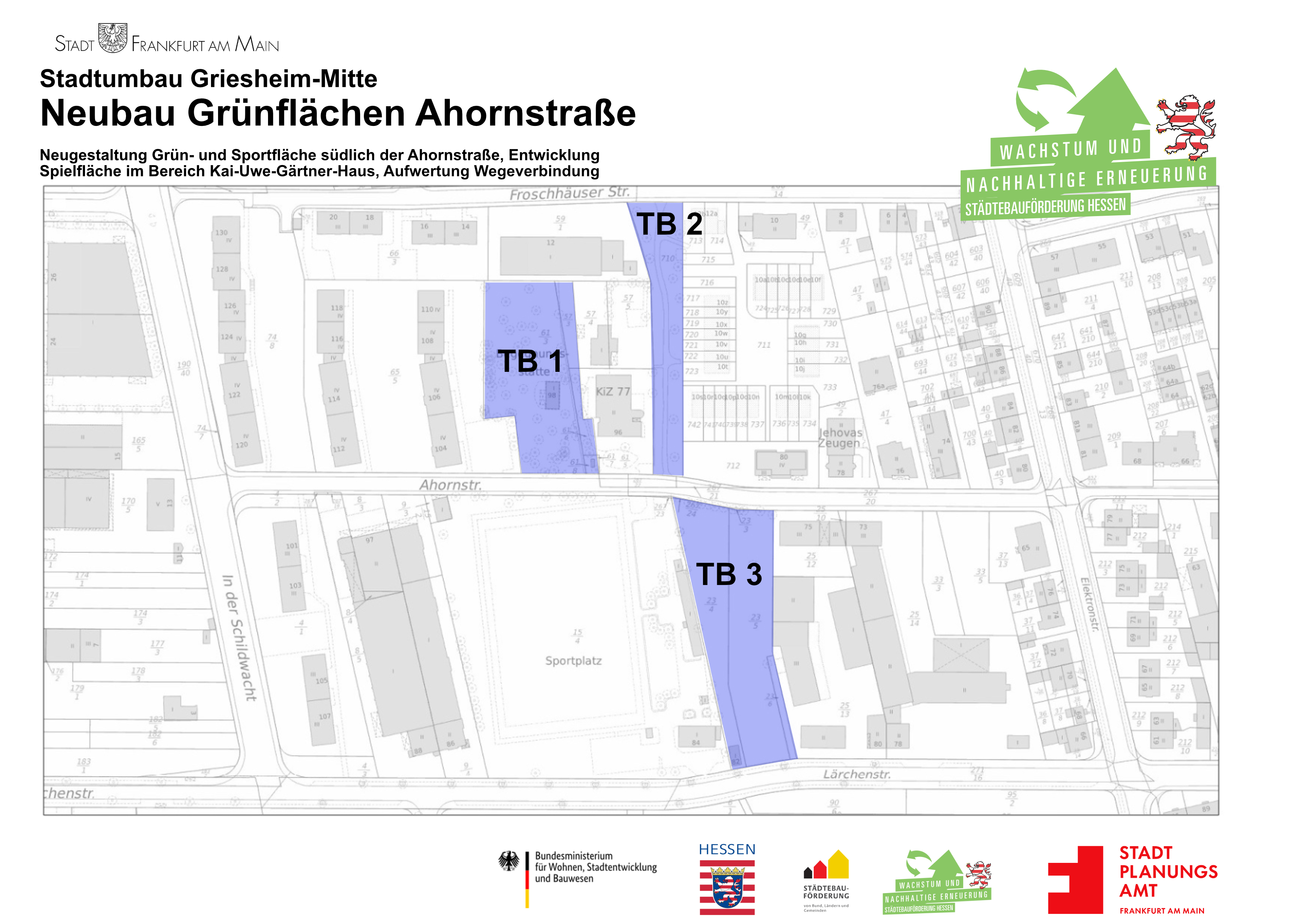 Within the Frankfurt city limits there is a desperate shortage of possible sites for new schools and childcare services. The schools development plan also indicates a need to expand the range of secondary schools in the west part of Frankfurt. Moreover, the population of the district of Griesheim is on the rise and otherwise possesses a very low proportion of parkland overall.

In order to do justice to requirements, in 2020 the City of Frankfurt acquired the Fiat grounds. From the viewpoint of the city, the grounds, which are 2.7 hectares in size, are optimally suited for development for communal purposes and to supplement the shortfall in parkland. Development Plan no. 931 – South of Mainzer Landstrasse/Elektronstrasse – which still has to be formally resolved, lays the foundations under planning law to establish a primary school, a secondary school, and opportunities for childcare. In addition, it will be possible to create a public green space here.

Acquisition of the site, site clearance, and prepare the site, will be subsidized by the Federal government, the state, and the European Union. Grants totaling 4,700,000 Euros to cover recognized costs eligible for support will thus be provided for the project from the "Growth and Sustainable Renewal" Urban Development Support Program (formerly: "Urban Conversion" program) and the European Fund for Regional Development (IWB-EFRE-Program Hessen).

In 2021, soil surveys and pollutant analyses will be conducted, as well as planning and tendering site clearance. The demolition and dismantling work will presumably take place in 2022. Subsequently, planning will be finalized with the inclusion of citizens in the process – by holding an urban-planning and building construction competition. From today's point of view, the corresponding building plans and open space planning will be ready at the earliest in 2025. A concept will be introduced for the interim use of the grounds.
Quartiersplatz - Neue Mitte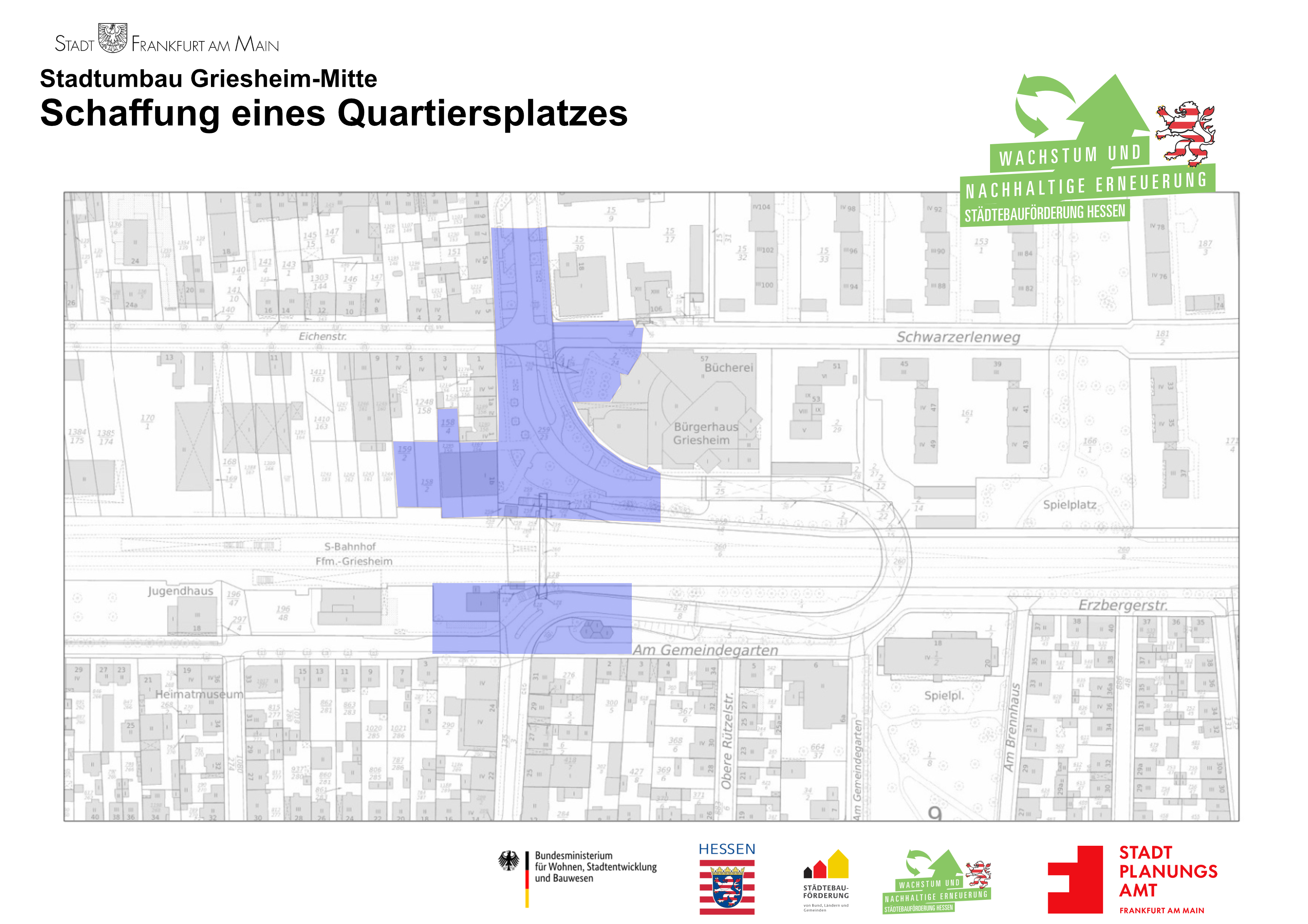 Die Neugestaltung der Flächen rund um den S-Bahnhof Griesheim ist eines der Schlüsselprojekte der nachhaltigen Entwicklung vor Ort. Die Flächen haben die wichtigen Funktionen eines Treffpunkts, die verbindende Unterführung dient als Entrée in das Quartier. Heute wirkt der gesamte Bereich wenig ansprechend und ist städtebaulich und verkehrlich unstrukturiert. Die zentrale Lage ist jedoch ideal, um einen zusätzlichen, attraktiven Aufenthaltsort in Griesheim-Mitte zu schaffen.

Die Aufgabe des offenen Planungswettbewerbs (November 2020 bis Juni 2021) ist, Ideen für die Schaffung eines zentralen Platzes zu entwickeln, der zum Verweilen einlädt. Dabei steht insbesondere die Schaffung eines identitätsstiftenden Quartiersplatzes im Norden im Vordergrund. Aber auch die wenigen öffentlichen Flächen im Süden sollen für die gesamte Bewohnerschaft Griesheims nutzbar gemacht werden.

Der Wettbewerb wird unter intensivem Einbezug der Einwohnerschaft durchgeführt, um die Möglichkeit der Mitgestaltung zu eröffnen und die Akzeptanz der neu entstehenden Flächen vor Ort zu erhöhen.

Im Herbst 2020 startete die Bürgerbeteiligung zur neuen Mitte um den Bahnhof Griesheim. Los ging es mit dem ersten Bürgerdialog, um Hinweise für die Planung bereits in die Auslobung des Wettbewerbs einarbeiten zu können. Coronabedingt wurde diese als öffentliche Befragung im Bahnhofsumfeld und als Onlinebeteiligung durchgeführt. Auch Kinder und Jugendliche der Georg-August-Zinn-Schule machten mit. Die lokale Partnerschaft (LoPa), die den gesamten Stadtumbauprozess kontinuierlich begleitet, erarbeitete in einem digitalen Workshop ebenfalls entsprechende Hinweise.

In einer ersten Stufe des Wettbewerbs wurden in einer Preisgerichtssitzung Überarbeitungsempfehlungen für die eingereichten Arbeiten ausgesprochen. Im Sommer sollen in einer zweiten Sitzung die Preisträger prämiert werden.

Die Ergebnisse aus einer zweiten Bürgerbeteiligung fließen in die Verhandlungen mit den Preisträgern über den Auftrag ein.

Auch in der anschließenden vertiefenden Planung ist eine intensive Beteiligung der Griesheimerinnen und Griesheimer geplant.

Mit einer baulichen Umsetzung ist voraussichtlich ab dem Jahr 2026 zu rechnen.

Termine:
26.03.2021 1. Preisgerichtssitzung
Juni / Juli 2021 2. Preisgerichtssitzung
Juni / Juli 2021 Ausstellung der Arbeiten in der Stadtteilbibliothek und am Bahnhofsgebäude
Juni / Juli 2021 Onlinebeteiligung
Juni / Juli 2021 Öffentliche Befragung an den Ausstellungsorten
Juni / Juli 2021 Workshop Lokale Partnerschaft Griesheim-Mitte
Entwicklung des Fiatgeländes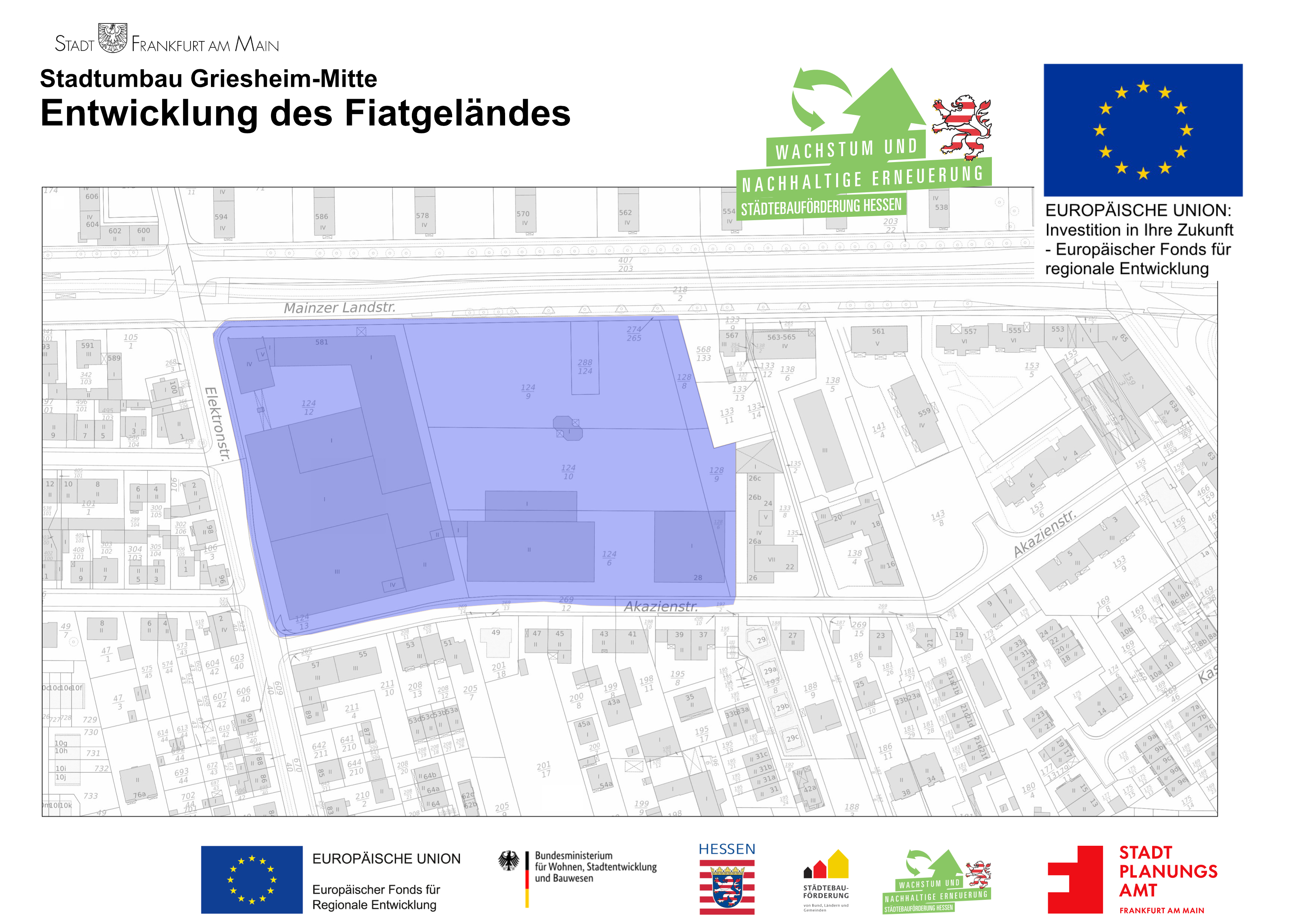 Im gesamten Frankfurter Stadtgebiet werden dringend neue Schulstandorte sowie Angebote zur Kinderbetreuung benötigt. Aus der Schulentwicklungsplanung ergibt sich zudem der Bedarf der Ausweitung des Angebotes weiterführender Schulen für den Frankfurter Westen. Zusätzlich weist der Stadtteil Griesheim einen Bevölkerungswachstum auf und stellt sich insgesamt mit einem sehr geringen Grünflächenanteil dar.

Um den Bedarfen gerecht zu werden, hat die Stadt Frankfurt im Jahr 2020 das sogenannte Fiat-Areal erworben. Aus Sicht der Stadt eignet sich das Gelände mit seiner Größe von 2,7 Hektar optimal als Fläche für den Gemeinbedarf und als Ergänzung benötigter Grünflächen. Mit dem neu aufzustellenden Bebauungsplan Nr. 931 - Südlich der Mainzer Landstraße/Elektronstraße - werden die planungsrechtlichen Grundlagen für die Errichtung einer Grundschule, einer weiterführenden Schule sowie Möglichkeiten zur Kinderbetreuung geschaffen. Zusätzlich wird die Herstellung einer öffentlichen Grünfläche auf dem Grundstück ermöglicht.

Sowohl der Erwerb des Grundstücks als auch die Beräumung und Vorbereitung der Fläche werden von Bund, Land und Europäischer Union gefördert. So werden für das Projekt Fördergelder aus dem Städtebauförderungsprogramm "Wachstum und nachhaltige Erneuerung" (ehemals Stadtumbau) und dem Europäischen Fonds für regionale Entwicklung (IWB-EFRE-Programm Hessen) in Höhe von insgesamt 4.700.000 Euro anerkannter förderfähiger Kosten bereitgestellt.

In 2021 werden Bodengutachten und Schadstoffanalysen eingeholt, sowie die Beräumung des Grundstücks geplant und ausgeschrieben. Die Abriss- und Rückbauarbeiten werden vorraussichtlich im Jahr 2022 stattfinden. Darauf folgend soll zur Konkretisierung der Planung unter Einbeziehung der Bürgerinnen und Bürger ein städtebaulich-hochbaulicher Wettbewerb ausgelobt werden. Mit den entsprechenden Hochbau- und Freiraumplanungen ist nach derzeitigem Kenntnisstand frühestens ab dem Jahr 2025 zu rechnen. Zur Zwischennutzung der Fläche soll ein Konzept aufgestellt werden.