TALK WALKs AUDIO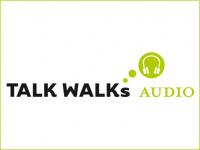 This series takes the discussion about building culture and urban development to specific places. Along the route selected, different people speak. Through headphones, those on the walk can listen to recorded information and discussions about the places they visit and themselves pursue there the trains of thought that develop. The audio walk takes in streets and different areas of the city.

www.talk-walks.de
Frankfurt Innenstadt
Downtown Frankfurt
Like hardly any other German city of similar size, Frankfurt/Main is characterized by the on-going growth of its population and by enormous momentum in terms of urban development. This is particularly evident downtown. The concept for the center of the city responds to the tasks this growth and momentum entail, and sets targets for urban repair and the development of the inner city.
We were able to engage the services of renowned experts as speakers for the downtown audio walk. Across 15 stops these are: Municipal Head of Planning Mike Josef, Head of the City Planning Department Martin Hunscher, the architect Prof. Jochem Jourdan, the architect Prof. Christoph Mäckler, the real estate entrepreneur Rainer Ballwanz, Reverend Andrea Braunberger-Myers, the former head of the Department of Culture Carolina Romahn, the urban planner Prof. Ursula Stein, as well as Michael Hootz, Markus Radermacher, Nils Schalk and Jörg Stellmacher-Hein from the City Planning Department.
The audio walk begins at Opernplatz. There are 14 further stops along the approx. 4.5-kiklometer route. Each stop is an entity in its own right, meaning that the walk can be completed in stages.
The TALK WALK was conceived by Bertram Weisshaar, who conducts research into walking as a science and has already devised several public Green Belt walks for the Frankfurt Environmental Office.
The TALK WALK can be downloaded free of charge from our website and played on cell phones or mp3 players: www.talk-walks.de. Smartphone users can avail themselves of those f the website's functions that have been optimized for mobile Internet, for example a GPS card and mobile download, without having to install an app for the purpose.