The north of the trade fair district
Location: Theodor-Heuss-Allee/Hamburger Allee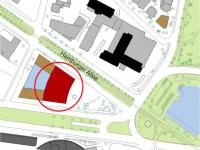 The proposal is for a location that complements the cluster of high-rises in the trade fair district and provides a spatial framework and outline for the large open spaces at the intersection of Friedrich-Ebert-Anlage, Theodor-Heuss-Allee, and Senckenberganlage. The location can also serve as a pivotal point for the trade fair cluster in the direction of the new high-rises envisaged in the vicinity of Senckenberganlage. Subject to the results of a study of the shadows cast on the residential quarters adjoining in the north, the maximum height will be limited to 140 meters.
location for an office high-rise

maximum height 140 meters
Location: Senckenberganlage/Robert-Mayer-Straße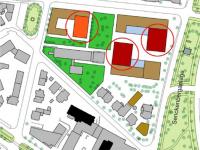 The proposed location for three new high-rises corresponds with the competition result and the framework plans for the future development of what is currently the Bockenheim campus. The inclusion of this location in the update of the high-rise development plan is to be regarded as information.
location for two office high-rise and a residential high-rise

maximum height of the office high-rises 140 meters (north) and 100 meters (south), height of the residential high-rise (west) 70 meters
Location: north of Festhalle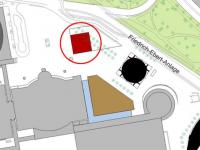 The proposal is for a location to complement the cluster of high-rises in the trade fair district and serve as a frame for the northern forecourt in front of the Festhalle. Together with an additional structure to the east of the Festhalle a clearly legible urban plaza will be created as a point of entrance to the Festhalle.
location for an office high-rise

maximum height 60 meters