Conversion of offices into residential space
What opportunities are afforded by the conversion of office space?
Monitoring the office space market and regularly updating the potential availability of office space are traditional tasks in urban development planning. In Frankfurt/Main the latter is very much determined by the construction of office space and the trend in the service sector. In the past few years, however, attention has tended to focus on the increasing numbers of vacancies. And at the same time there has been a sharp rise in the need for housing.
As long as November 2005 the City Council passed a resolution to promote the conversion of offices into residential space by means of active consulting and the Municipal Authorities in individual cases exploiting all its judgment and discretionary powers. Financial support is currently possible for the Bahnhofsviertel district and the Höchst framework planning area. You will find further information on this matter under Urban redevelopment in the Bahnhofsviertel and Masterplan and Subsidy Program for Höchst.
With sustainable urban development in mind, the company Baasner, Möller & Langwald, Büro für Stadt- und Regionalplanung GmbH was commissioned to conduct a study analyzing the potential in the city as a whole and its suitability for restructuring exploring the various aspects of conversion from an urban development, economic, and technical point of view.
The study embraced 300 office buildings with vacant office space. An examination of economic framework conditions and the conducting of model calculations demonstrated that conversion into residential space can by all means be an economic alternative.
At the same time, the study shows clearly that the conversion of vacant office premises does not offer any economies of scale. From the viewpoint of urban design, occasional measures as part of converting districts of the city are meaningful. Downtown, residential functions can be strengthened and the potential afforded by vacant offices can contribute to improving the usage mixture and to stabilizing and upgrading specific quarters.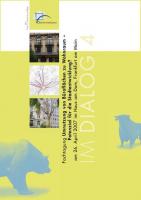 On April 26, 2007 the City Planning Department hosted an interdisciplinary specialist convention on "Converting office space into residential properties – the urban development potential?". Both the study and first reports on work were presents while assessments of future trends were discussed.
The convention largely corroborated the study's findings. Participants agreed that the conversion of office premises into residential space would not make a quantitative impact on reducing vacancy levels and creating new living space. Nevertheless, as regards urban development potential individual measures to (re)gain residential space make sense. Restructuring entire ensembles are another source of new opportunities, as in the case of the KulturCampus in Bockenheim, as is the idea of transforming monostructural districts into mixed-usage zones, as in the case of Bürostadt Niederrad.
The study "Opportunities for Converting Office Space into Residential Space in Frankfurt/Main" was published in the "BAUSTEIN" series (02/07) and is available for download.
Documentation of the conference is available as a brochure in the "IM DIALOG" series (04/07).
Contact partner(s)
Ms. Antje Iff
Telephone: +49 (0)69 212 30087
Fax: +49 (0)69 212 43692