Urban development measure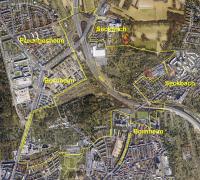 The City of Frankfurt resorts to urban development measures if general urban development legislation has reached its limits, for example in the case of the development of very large areas that are to be initiated quickly, or when other development measures (e.g., urban development contracts) are not possible. In addition to various tools that can serve process management, any existing obligations as regards land acquisition and/or reprivatization are especially important when conducting an urban development measure. The latter enables restructuring without a formal reallocation process being required. One important feature is that the authorities acquire the land at a nominal value that is independent of any development and that the increase in value as a result of this development is then used to finance the measure. This includes, for example, the costs of access and social infrastructure, relocation costs, noise protection measures (for example covering the A 661 interstate), compensation measures, as well as the cost of the financing, the planning and/or the project management.
Scope of the preparatory studies
In line with section 165 of the German Town and Country Planning Code (BauGB), extensive preparatory studies are necessary prior to a development measure. These serve to establish the assessment criteria for determining a development area. In-depth supplementary studies involving an urban and open space planning concept are intended to quantify the expenses and the benefits of the development measure more precisely.
These include studies on the local ecology, nature and landscape conservation, species protection, climate, transport, transport links and access possibilities, noise levels and the possibilities of reducing them, into the technical feasibility of covering the A 661. They also entail outlining possible variants of the most meaningful tunnel length, engineering, and the integration of the structure in a landscape concept. Particular importance is placed during the preparatory studies on formal discussions and consultations with the stakeholders, namely the real estate owners, tenants, leaseholders and other parties affected, and the public-sector clients. It is also imperative that these parties are willing to become involved.
When laying the foundations for deciding whether or not an urban development measure shall be introduced, the question must be clarified whether to this end there are other planning alternatives which could achieve the relevant objectives and purposes, too.