The Westend Synagogue
Topic:
Public space
District:
Local district:
Size of area:
2500 sq. m.
Project management:
Ms. Stefanie Käse
Telefon: +49 (0)69 212 31264
Telefax: +49 (0)69 212 30731
Project description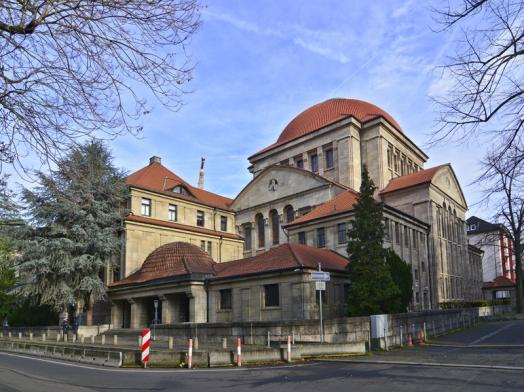 Reason for planning
The Westend Synagogue is one of the few Jewish places of worship to have survived World War II more or less unscathed. Following makeshift renovation work it was re-consecrated in 1950, before between 1989 and 1994 being restored in line with heritage stipulations. The Westend Synagogue is the largest in Frankfurt and is the center of the local Jewish community.
The Synagogue is unfortunately one of the buildings in Frankfurt that are at risk. For this reason, 24/7 police protection is provided for the facility. At the moment numerous, provisional concrete barriers and bollards on the road demarcate the security zone around the building complex.
In future, these concrete barriers will be replaced by permanent security features integrated into the streetscape. The latter will also be redeveloped such as to ensure the surroundings befit the importance of the synagogue.

Development area
The area earmarked for redevelopment embraces the roads around the synagogue and the attached buildings, as highlighted in the aerial view. It measures around 2,500 sq. m. On Altkönigstrasse it extends as far as Liebigstrasse. On Friedrichstrasse it goes as far as the building at no. 27. The redevelopment of these roads is part of the planning assignment.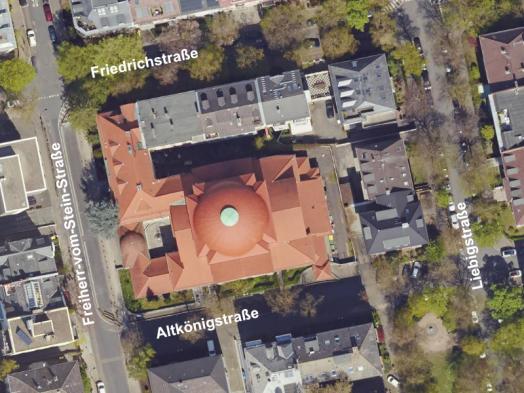 Planning objective
As part of the "Making Frankfurt More Attractive" program, an overall concept will be developed aimed at ensuring the synagogue has surroundings and an approach worthy of its status. The plan is also to enhance the surrounding roads and integrate the security features as discreetly as possible. A clear planning objective is also as far as possible to preserve and protect the marvelous old trees so characteristic of the Westend. Further requirements include the consideration of heritage-related concerns (the synagogue is a cultural monument), preserving the existing traffic system and guaranteeing accessibility.

Project progress
In January 2017 the City Planning Department invited three urban planning companies to submit alternative designs for the roads surrounding the Westend Synagogue. The selection committee was made up of representatives of the Jewish community, independent experts, representatives of the Local Consultative Council and representative of the municipal authorities. The jury selected the design submitted by Otfried Ipach Landschaftsarchitekt BDLA as the winning entry. (For an impression of the design see the PDF file below).

Since then numerous agreements have been made and preliminary studies conducted. In this way, the city hopes to make certain nothing unforeseen hampers the feasibility of the planned design.
The preliminary planning stage was concluded in September 2019. The City of Frankfurt/Main City Planning Department compiled a preliminary planning dossier, which is currently being prepared for presentation to the City Council. Approval, and thus the allocation of further funds for planning is expected in the second quarter of 2020.
PDF files relating to the project