Residential development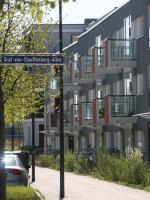 The Frankfurt housing market is still dominated by shortages. Almost all market segments report a need and demand for housing.
For this reason, in addition to safeguarding the existing level of housing the City of Frankfurt is pursuing the goal of making sufficient land available for new housing to be built, taking requirements for different styles of living and different buildings into consideration.

The provision of housing in sufficiently high numbers and of the right quality is a core task for urban development planning. As a result, in 2003 the City of Frankfurt decided to develop the overall "Housing Master Plan" concept embracing among others the following areas: Guidelines for Housing, monitoring of the housing market, forecasts of housing requirements, and assessing potential areas for residential construction.
Whereas the "Guidelines for Housing" present the objectives and possible solutions to be adopted for housing policy in Frankfurt/Main, monitoring of the housing market provides analyses of the situation and ascertains housing requirements.
The current version of the housing market report and the Guidelines for Housing can be viewed on the Frankfurt.de Website by clicking Wohnen they are likewise available as downloads there.
In addition to the potentials for housing construction, the Vacant Sites Register lists all small and little-used sites that are suitable for housing construction.