Centers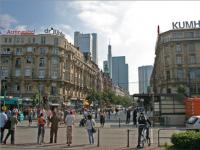 As a regional center, the City of Frankfurt takes on far-reaching supply functions in the public and private infrastructure. Frankfurt is an important national retail trade hub, but at the same time the city faces fierce regional competition from a large number of regional and minor regional centers in the Rhine-Main area.
In Frankfurt/Main as well there is evidence of the trends towards larger operating units, particularly in the retail food sector, and of the drop in the number of retail outlets in secondary locations. E-commerce sales and market share are growing continually. Customer behavior with regard to mobility, the shopping experience, and diminishing loyalty to locations and individual outlet are heightening the structural upheavals in the retails trade. These changes are also reflected in urban structures, and there are increasing signs of relocation to city limits and a thinning out of the local supply network.
Nonetheless, the city has an extensive, varied range of specialist outlets. In comparison with other major cities as well, the structure of centers in Frankfurt/Main is characterized by a large number of shopping centers spread across the entire city and at different levels in the hierarchy.
The urban planning aims on the one hand to strengthen the centers, and on the other to guarantee comprehensive supplies close to residential quarters.
In 2008, Frankfurt City Council adopted a concept for the structure of retail trade and shopping centers, which was updated in June 2012. It was advanced, with a focus on "ensuring local supplies" by the City Planning Department and Wirtschaftsförderung Frankfurt GmbH in cooperation with the Chamber of Commerce and Industry and the Trade Association.The concept's strategic elements are now to be adopted again.
You will find answers to frequently asked questions here
Contact partner(s)
Ms. Jacqueline Botur
Telephone: +49 (0)69 212 35088
Fax: +49 (0)69 212 30731