Publications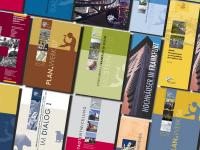 The wide spectrum of tasks carried out by the City Planning Department is reflected in the range of publications and lectures available.

The publications include three major series into which the various topics are organized. The "PLAN.WERK" yearbook leads the way with an extensive annual report on the Department's work over the course of the prior year.

The "IM DIALOG" series is a forum for presentations and discussions on current, on-going planning projects.

"BAUSTEIN" reports on the outcomes of preliminary research or concluded planning projects.

In addition to the above publication series you will find a range of reading matter on the following topics: retail and commercial spaces, urban development, planning and building projects, high-rises in Frankfurt/Main as well as maps outlining legally binding masterplans, masterplans submitted for approval, preservation statutes and restricted areas of the City Planning Department.

You can find further information on purchasing publications as well as a list of publications via the navigation bar to the left.

Journal of the Planning Department
Frankfurtbaut
Twice a year, the Planning and Building Department reports on planning and building activities currently underway in Frankfurt. In addition, it gives readers insights into the work done by the various municipal departments.
"Frankfurtbaut" journal is printed in an edition of 218,000 copies. It is distributed free of charge to all households in the City of Frankfurt.
In addition it is on display in the Central Citizens Office, Zeil 3, 60313 Frankfurt am Main, in the Citizens Offices, the Public Library and in the Planning Department.

Further information on the journal can be found at www.frankfurt-baut.de.